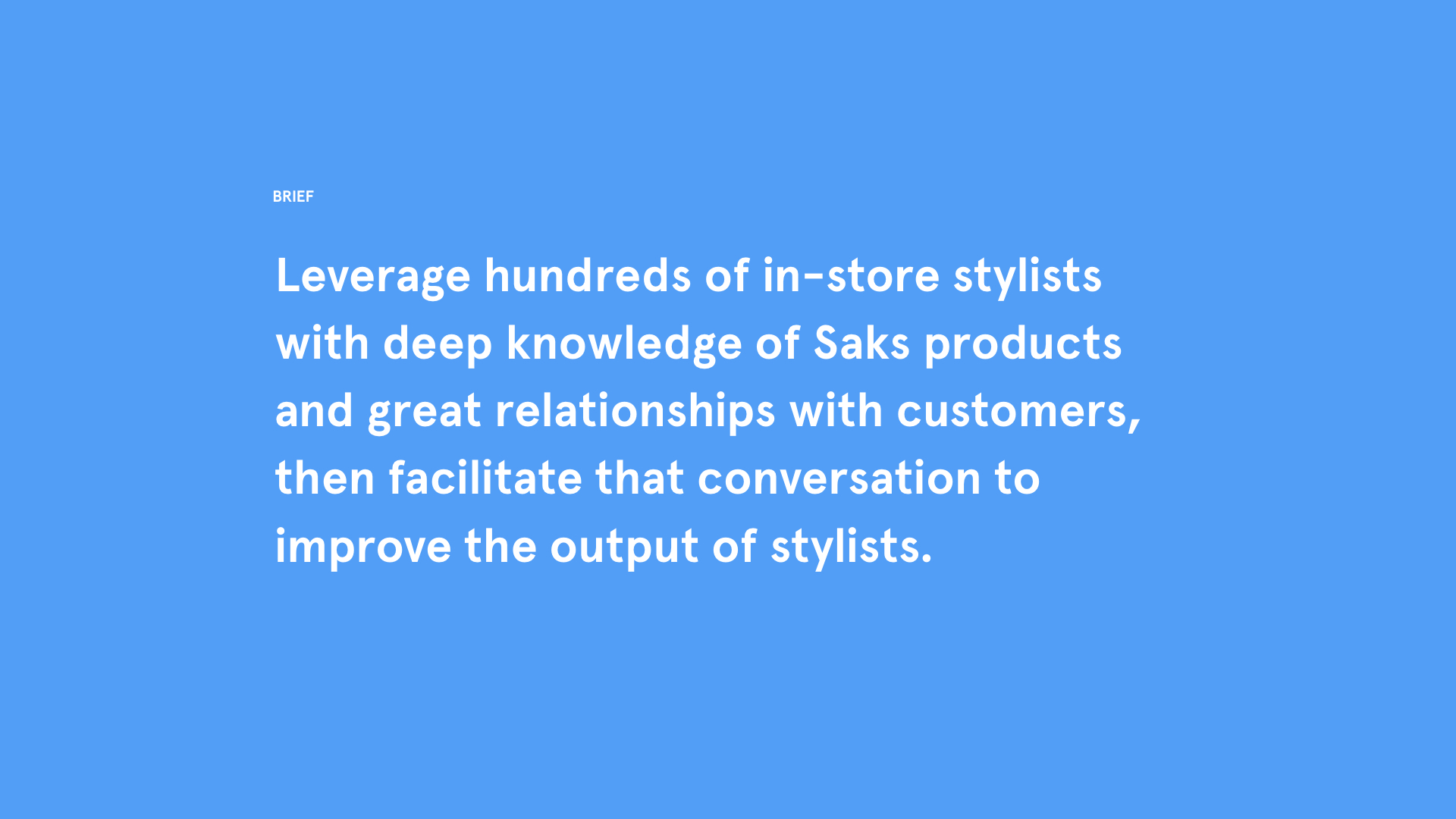 A Better Question
The two initiatives I worked on while on the Gilt team at Saks Fifth Avenue were born from this brief. The first step in my process was to frame and reframe the challenge, and the following questions helped us to expand upon the brief.
1. How might we reach customers at the moments when they need the most support from the stylist service?
The first thing I did was to map out the ideal customer journey from beginning to end - device-agnostic, channel-agnostic. I created a view of the distinct elements that make up the customer journey, in order to devise an approach to provide an ideal experience for each one.
2. How might we communicate the expertise of the Saks stylists through these touchpoints?
Previously the only way to connect with customers digitally was through the awkward Salesfloor widget - a global element on saks.com provided by a third party company. In discovery interviews with Associates we learned that they were getting a lot of customer service questions unrelated to their area of expertise. There was a business need to build this tool internally so that we have control of the data but also to elevate the styling service using more strategic placement and more elegant look and feel.
3. How might we help stylists to know customers better?
Another pain point was that Associates are not given any information about customers when they receive a new lead, and in many interviews they expressed that it would be good to have more information in order to provide the best service.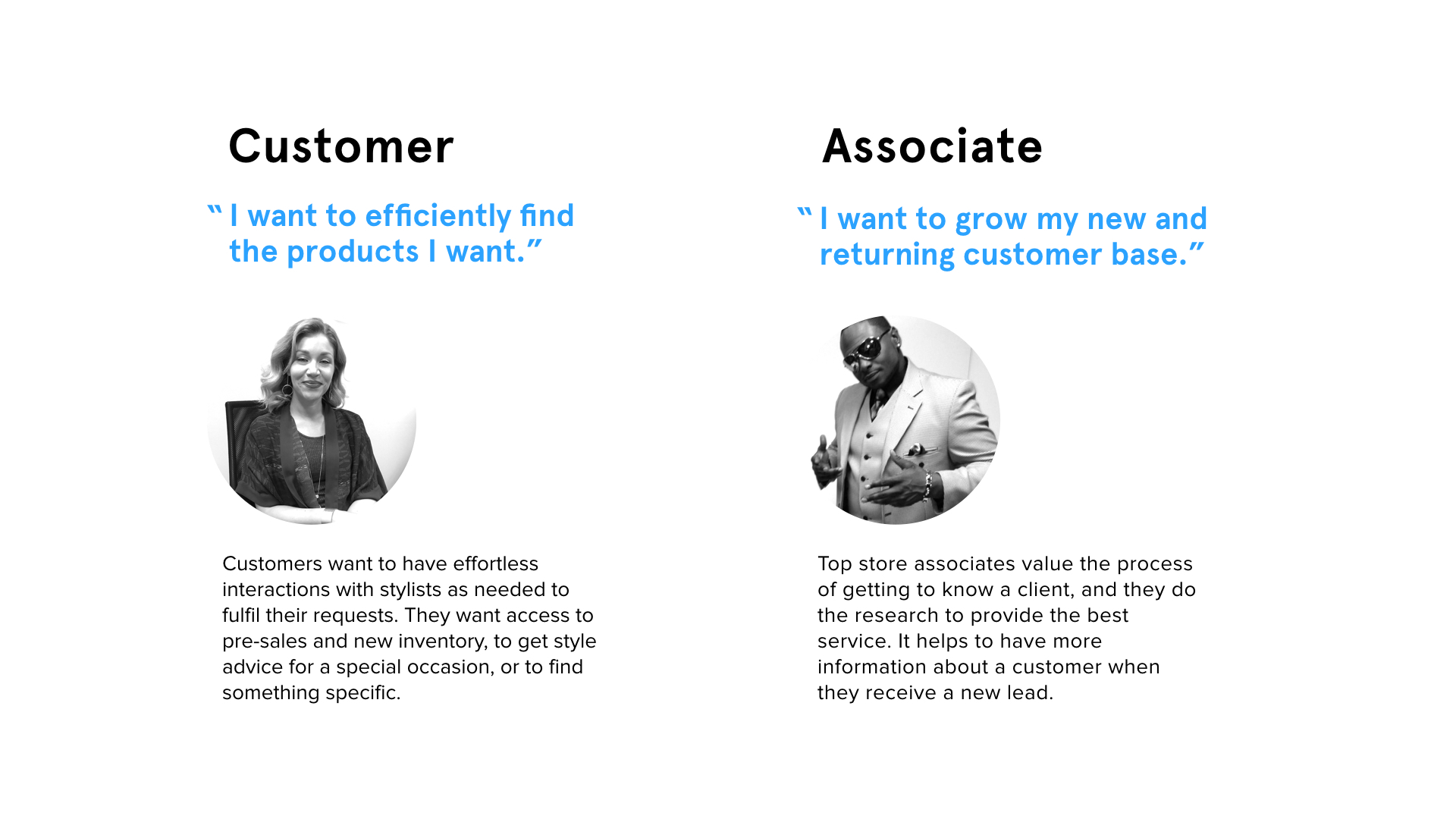 Two customers to solve for
For this initiative we conducted many customer and Associate interviews in order to get to the heart of their challenges and how we can help.
We have two types of customers to design for in this case - the Associate who works in the retail store and provides styling advice to the customer, and the Saks customer themselves.
Customers may have an event coming up that they need to dress for, or they might be looking for that impossible-to-find Fendi backpack. They might deep down really want a new fashion partner that they can get advice from daily. In these moments, they will be more likely to reach out to a retail Associate for help.
Associates are style professionals who thoughtfully build their client book month after month and meticulously style and assist their regular clients. They want to provide the best possible service to Saks customers and drive sales. There are some common challenges that came up again and again in the interviews, and I'll walk through how we set out to solve some of them.
After designing an initial prototype, we interviewed 15 customers and 12 Saks Associates and gathered insights on a weekly basis. Each week, I iterated upon the prototype based on the feedback we received for the duration of user testing (6 weeks). Some major directional changes included removing the ability to upload a photo of yourself, sizes, and refinements on the goals selection.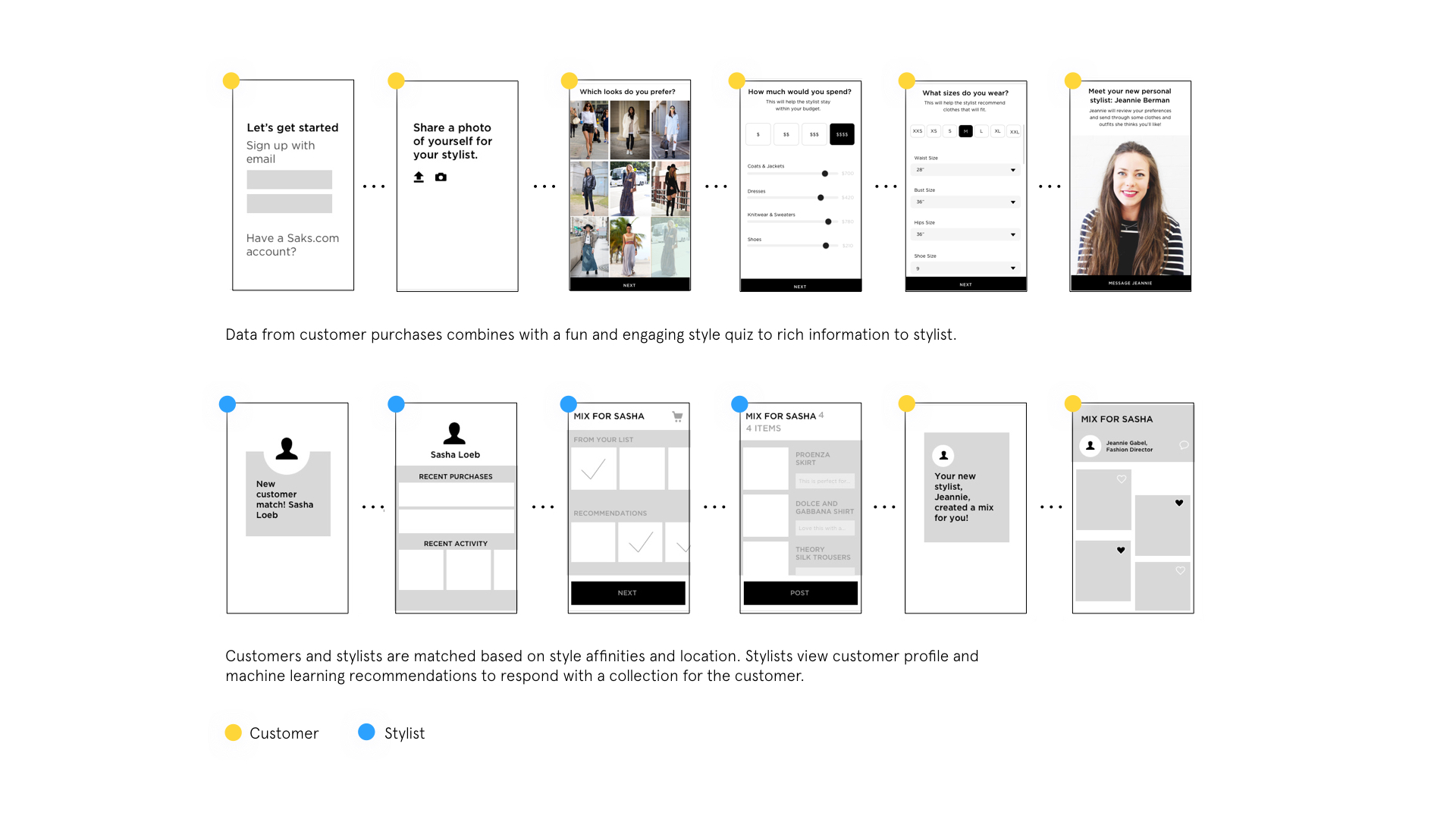 Low fidelity explorations
In early ideation, I came up with a multitude of ideas to test around connecting and facilitating relationships between customers and stylists. Initially I wanted to create an AI-powered chatbot to field requests while an associate was being contacted. At this stage I also concepting using an iMessage app and messenger bot to facilitate these relationships.
The user flow above shows an exploration of a style quiz that collects information on sizing, fit/cut, style and budget preferences, then our algorithm creates an intelligent match between customer and stylist.
The stylist view in the bottom row shows their notification when they receive a new customer match. They can then view the customer profile and insights into their purchasing history. Machine learning recommendations provide products to choose from and create a collection for the customer.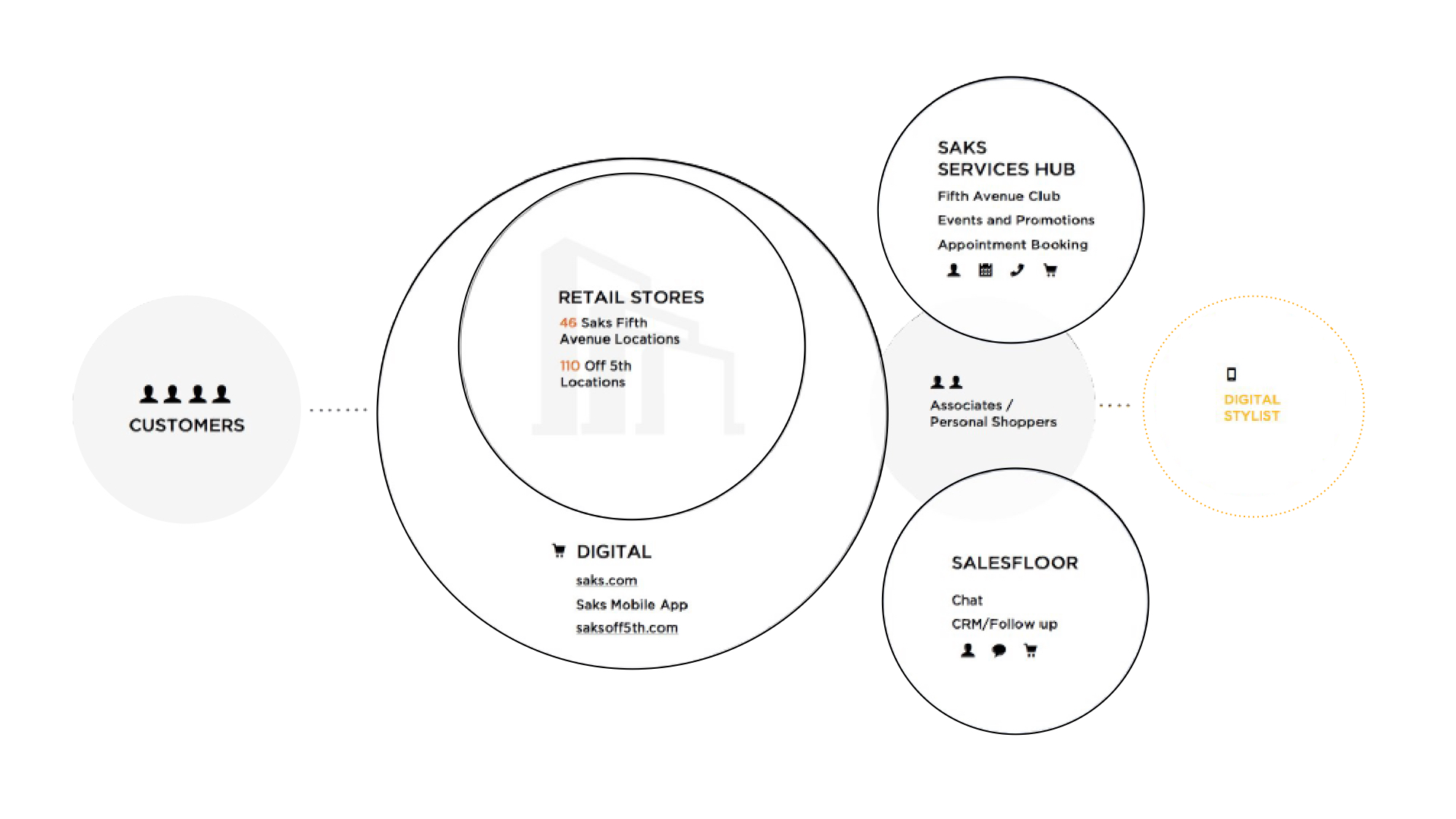 Technical and organizational constraints
In technical discovery, I realized that the tech ecosystem at Saks is fragmented into multiple backend systems that have no cross-over. Instead of thinking about these systems as separate silos, the mobile stylist project can be an opportunity to map out a unified digital service.
Also at this point we conducted stakeholder interviews, and I created an org diagram to help guide our team around the very large organization. This project in particular touched many different departments at Saks.
The MVP
Our MVP solution was a simple and engaging style quiz in the Saks iOS app. The entrypoint video conveys the expertise of the Saks Associates, and the onboarding process improves the quality of customer leads and gives Associates more information about the customer.
I also provided creative direction for a video that will appear in the Saks app as the entry point for the quiz. The intention is to convey the feeling of success after being styled. Watch the video here.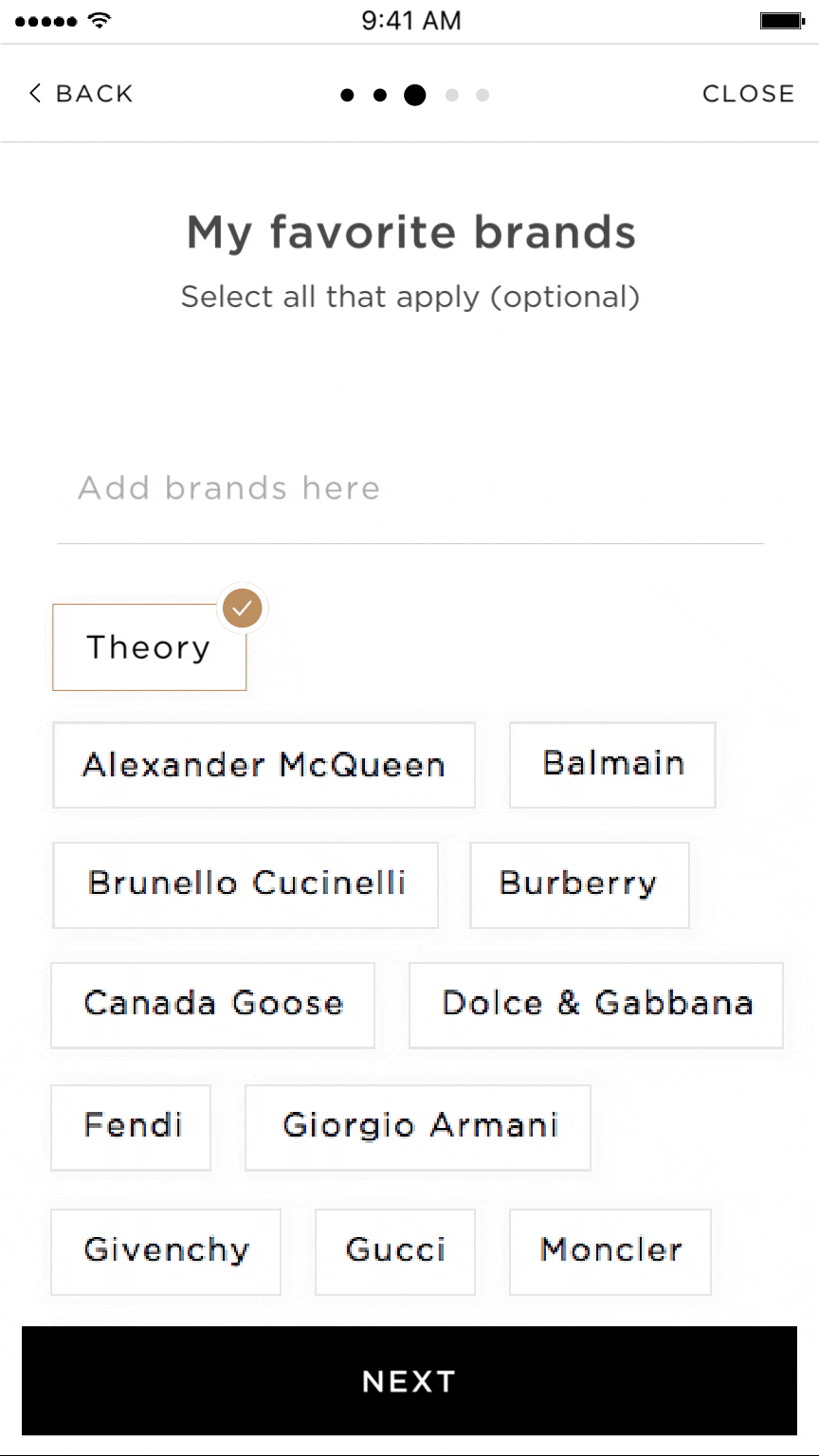 The style quiz is an independent layer from the Saks iOS app that can be accessed from a module on the home screen and also from the account.
The process leading up to the final design solution involved balancing the many teams that were involved. In addition to our tech team, this initiative touched the Stores, IT, and Marketing teams at Saks. We had monthly presentations to the larger group (about 30 people) in order to keep all stakeholders informed.