For the logo and brand identity, I went for a quirky, friendly and offbeat direction.
I created an initial prototype for the Tomorrow & Today mobile app, which explores local examples of art and design while highlighting the surrounding creative network.
My challenge at the time was content creation - my team or myself would have to create all of the content to include. In hindsight, I would have make this content user-generated to reduce the effort up front. I decided to focus on events, as this data was readily available and still quite related to solving the challenge.
My MVP was a weekly newsletter with five art and design events, focused on emerging artists and off-the-beaten-track venues. I also created an art event series in partnership with local arts organizations.
25 Coffees with 25 Designers
The cultural events newsletter didn't gain the traction that I had projected because it was quite niche, and creating a platform for events discovery became unsustainable without a massive investment to create and manage content.
I went in search of a new, more scalable problem by speaking to a new group of people - "25 Coffees with 25 Designers (in 25 Days)". Design disciplines included Architecture, 3D Printing, UX/UI Design, Urban Design, Graphic Design and Wearable Technology.
Insights from user research:
1. Cross-disciplinary collaboration and sharing
Designers believe that the most exciting projects happen when disciplines overlap. Similarly, they find it really valuable to reframe and discover a new perspective from a designer working on a similar problem in another discipline.
2. Sharing process and methodology
Designers are interested in expressing their thinking and process, especially to non-designers and potential clients. In this way they can communicate the value of design and justify their work and decisions to stakeholders.
3. Mentorship and feedback
Designers are interested in finding mentors and becoming mentors, so a platform that would allow them to follow, connect and give meaningful feedback would be valuable.
Based on this research I created three user personas to guide the designs.
The Etsy for Emerging Technologies
The new Tomorrow and Today is a marketplace for a growing population of designers, artists and artisans working with digital technologies.
The shop will showcase their products made with emerging technologies, and questions and answers will allow them to share their insight and working process to other designers and artisans as well as the general public.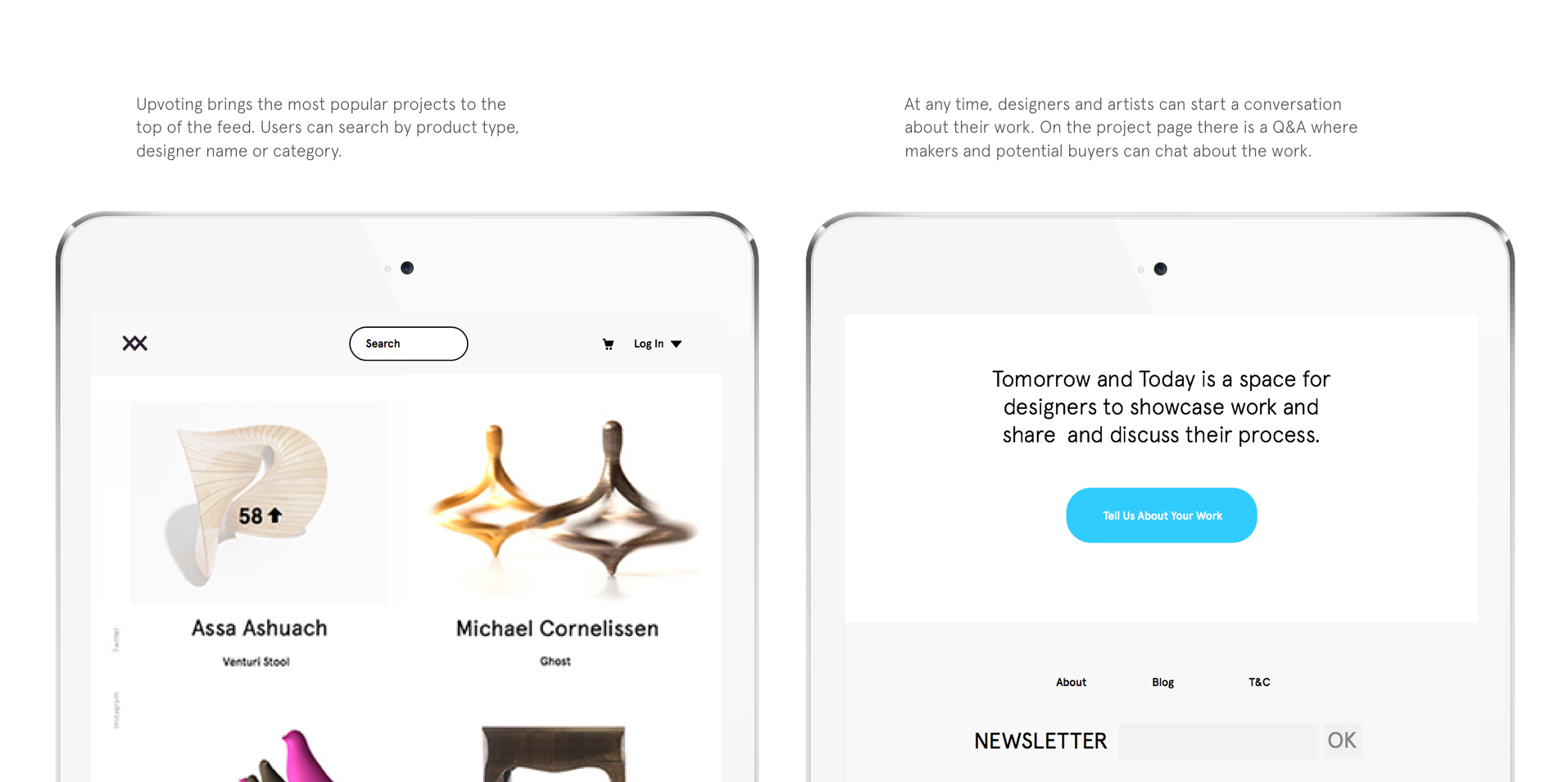 Stay tuned for what's next with Tomorrow & Today, and in the meantime check out some of the interviews I've done with supremely inspiring makers and artists on the blog: https://medium.com/@tomoztoday